For users who feel that the built-in or packaged utilities in Windows operating system is not enough, not up to par, not convenient or not useful enough, WinUtilities is a must-have software. WinUtilities is a collection of tools to optimize and speedup the system performance, besides supplement the tools available on the OS to make various tasks easier to perform.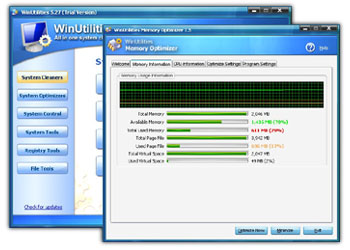 WinUtilities suite contains utilities such as File Undelete to recovers deleted files on NTFS and FAT volumes; Disk Cleaner to cleans disks from information that clogs the system and reduces the performance of the system; Registry Cleaner to scan the Windows registry and finds incorrect or obsolete information in the Windows Registry; Startup Cleaner to easily manage program execution at Windows startup, History Cleaner to erase all traces of activity on computer for privacy protection; File Splitter to split or rejoin any type of file into smaller pieces or back to original file; File Shredder to erase files securely; File Lock & EXE Protector to protect any Windows executable file with a secure password; Memory Optimizer to optimize the Memory Management of Windows; Duplicate Files Finder to find and remove duplicate files; Shortcuts Fixer to address and remove the invalid shortcuts; Process Manager to check system's performance and manage the running processes; Uninstall Manager to manage and uninstall installed software; System Information to show detailed information for computer hardware and software; Registry Backup&Restore to back up and restore the Windows Registry; Registry Search to search, delete or export the Windows Registry by a specific wildcard; BHO Remover to manage the BHOs that are currently installed; Auto Shutdown to schedule computer for log off, stand by, hibernate, or shutdown at a specific time; Windows Tools to easily launch the utilities build in Windows; System Control to organize and manage Windows Settings; and Task Scheduler to configure the cleaning tasks that take place automatically.
For today (October 30, 2008) only, Giveawayoftheday.com is giving away a genuine license with legitimate registration name and registration code to activate the WinUtilities to full version. To take advantage of this free offer, download and install the setup installer from giveawayoftheday.com by today, or download a WinUtilities 30-days trial version from the publisher ylcomputing.com. Then, register and unlock the WinUtilities to full version with the following registration license key:
Regname: Giveawayoftheday
Regcode: YLSOFT.D642FDF76FC446F8.E07CF2F10FDD43A9.AA7308A07B7878F5
Once installed, WinUtilities can be used without restriction, limitation or time-bomb expiry date.
Giveawayoftheday.com is giving away WinUtilities again on December 28, 2009, for WinUtilities version 6.2. The setup file can be downloaded here. The registration key code is similar to previous giveaway, as listed above.