Wise-FTP is a FTP client for Windows platform that is developed and distributed by the German company AceBIT, located in Darmstadt. Wise-FTP is one of the best or most popular FTP client, and has been included in all web hosting packages of hosting service provider 1&1 since 2000, and T-Online since 2004.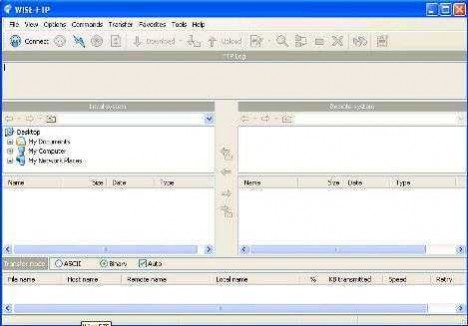 The current version of Wise-FTP is 5.5.9 (as of June 2008). The full version license price for Wise-FTP 5 costs $49. If you don't mind to use older version of Wise-FTP, VNU is giving away a genuine full version license with serial number for commercial edition of Wise-FTP 3, which supports Windows 98/ME, Windows 2000, Windows XP and Windows Vista.
Features of Wise-FTP 3:
Support standard FTP and secure authentication and file transfer using SFTP on SSH/SSH2.
Site Manager to remember connection settings.
SOCKS proxy support.
Supports drag and drop as similar to Windows Explorer program interface.
Remote editing of file directly on the server.
Unidirectional synchronize local and remote folders for automatic alignment of source system and target system.
Scheduling a file transfer session.
Clipboard monitoring.
Built-in HTML Editor.
Ability to export server list to a csv file.
Download the free version of Wise-FTP 3 (version 3.1.2): wiseftp3.exe
To receive your own personal serial key or activation code, install the free Wise-FTP 3. Run the program after installation, a "Activate Wise-FTP" window will appear. Click on Activate Now button.
In activation wizard, fill in the necessary details such as email address, and then click on Request Activation Key button (click Next button if you don't see it). A genuine valid activation serial key code will be sent to your mailbox, which should be copied and pasted to the field provided to complete the activation process to use Wise-FTP 3 for no expiry and no limitation or restriction.