If you are one of those who not yet ready to upgrade Windows XP or Vista to Windows 7 but want to enjoy some Windows 7 features like Windows 7 Taskbar. Then, you can get these features in your Windows with SBar Taskbar Replacement. The SBar Taskbar is a Windows taskbar replacement software which emulates Windows 7 Taskbar and adds some new functionality present in Windows 7 to Windows XP and Vista. The notable features in Windows 7 taskbar includes live preview of opened windows, common tasks, jump list and etc.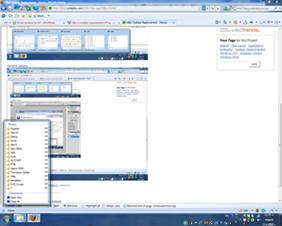 Sbar Taskbar Replacement includes the following features:
Grouping taskbar buttons in the way Windows 7 do it.
Thumbnail previews for all opened windows (static in XP but live in Vista).
Jump lists with pin support.
Additional tasks in jump lists.
Pin support to taskbar (experimental).
Support to Skype 4.x and Firefox 3.x.
The Sbar Taskbar is available as free to download from here. Other alternative for Windows 7 Taskbar alike replacement is .