The manufacturer of gaming devices, Wolfking has officially announced the launch of its latest Warrior Xxtreme gaming device, which is a new hybrid 2-in-1 PC gamepad and keyboard, designed specifically for hardcore MMO players.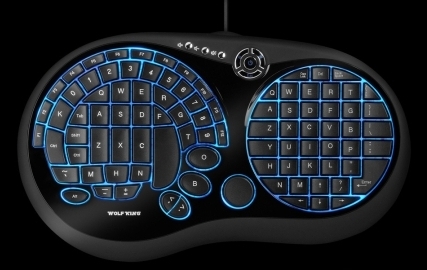 As what you see in the photo, the new Warrior Xxtreme gaming keyboard has a patented ergonomic key arrangement to focus on the keys that games use most, eliminating the keys unneeded for gaming. In addition, the gamepad comes equipped with an integrated volume control, a pair of USB 1.1 ports and 3-layer silicon membrane which aimed to enhance your gaming experience.
"The Warrior Xxtreme is the next generation of PC gamepads," said Bob Costlow, director of sales, WolfKing. "It combines everything that made the original WARRIOR an award-winning gaming accessory, and adds a new level of functionality that will give gamers the edge they need to frag the competition!"
The latest WolfKing's Warrior Xxtreme gamepad which has the Blue Moon backlight is available now through Dell for $79.99.