Posted:
April 5, 2011
/
Under:
Android
/
By:
Alan Lun
Wondershare MobileGo is an all-in-one free phone manager for Android phone that helps to master Android data on PC. Wondershare MobileGo data management utility comes with an intuitive user interface with simple options and settings. With Wondershare MobileGo, users can convert movies and music to android compatible format, transfer data, contact management, data backup, and other phone management with a single click. Besides that, Wondershare MobileGo also can backup contacts, manage SMS, manage APK applications, and quick configure wireless connection for Android phone.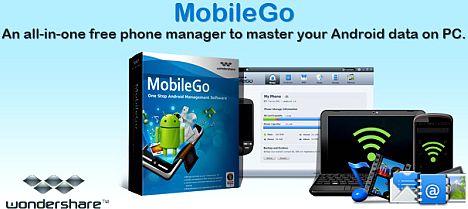 Features of Wondershare MobileGo:
Seamless multimedia converting, transfer,and management.
Convenient contacts management, import and export.
Easily add, delete, group and back up all of your contacts for your Android smart phone.
Automatically convert the incompatible formats into compatible ones when you try to import multimedia files from PC to your phone.
Manage Photos on Android phone from PC.
Freely transfer any of your favorite movies and music files from PC to your phone without worrying about the compatibility of file formats.
Fast backup and restore with one-click.
Easily backup Contacts, SMS, APK Applications from android to your PC with one click in case that your mobile is lost or stolen, or whenever you need to change your phone.
Connect wirelessly via Wi-Fi besides USB cable.
Powerful SMS management.
Quickly restore your backup data on PC to your Android phone.
Quick wireless connection.
Wondershare is now giving away free full version of Wondershare MobileGo for a limited time. To grab free copy of Wondershare MobileGo legally, just follow the below steps:
Download Wondershare MobileGo: mobilego_full818.exe
Install and activate product to enjoy full version of Wondershare MobileGo.Note: The free full version of Wondershare MobileGo doesn't require any license key code to active.
Wondershare MobileGo supports Windows 2003, XP, Vista, and Windows 7.
Update: Wondershare MobileGo for Android Pro (Mac) with License Keycode Free Download