Google Chrome has built-in translation service which offers to translate pages that aren't in native local language of user. If you're Chrome is in English, and when you browse to a web page that is not written in English such as Russian, Chinese, French, German, Spanish, and other foreign languages, normally Google Chrome will display a blue translation bar indicating what language the page is in, and ask if you like to translate it.

The Chrome automatic translation feature is a nifty feature, though its functionality has proved to be a hit and miss. Automatic translation provides a convenient way to surf foreign websites, provided it's working fine. Sometimes, Chrome cannot detect or identify the language of the web page and hence does not offer auto translation for the page. Mostly, Chrome simply does not and fails to display or show the translation bar automatically.
To make matter worse, when Google Chrome does not offer to translate web page and does not display the translation bar, there is no way to force or manually translate the page. The only other option, by right clicking on the web page and select "Translate to My Language" (e.g. Translate to English) is disabled and greyed out.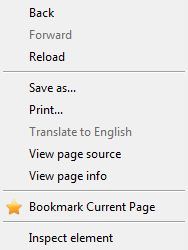 For people who is not keen to copy and paste the text in foreign language to a web translation service just to get the meaning of the web page, it's possible to manually force web page translation in Google Chrome. The workaround to fix translation issue in Google Chrome is not by forcing the blue translation bar to unhidden or appear, but by installing the Google Translate extension.
Google Translate extension for Chrome adds a button to the Chrome web browser toolbar. Whenever in need to translate a page you're viewing, click the Google Translate icon to bring up the Google Translate bar (not the same with Chrome blue translation bar).

Google Translate extension can automatically detects if the language of a page is different from the language settings for Google Chrome interface, and more importantly, does so more accurately when comparing with Chrome built-in translation engine. When a translation is available, a banner appears at the top of the page. Click the "Translate" button in the banner to have all the text on the page appear in the new language.