Viewing photos in Facebook has became a little convenient and elegant with the introduction of slideshow lightbox. When you click on a photo, the photo is opened in an overlay lightbox showing the photo, and also allows users to view other images and pictures in the album as slideshow.

However, the photos that are shown in slide show does not allow users to right click on the images and save the photos into local computer. Previously, when you right click on an image on Facebook's Photos, you can choose the "Save Picture As" or "Save Image As" to save a copy the photos in the right click contextual menu. with the new slideshow UI in Facebook, the "Save Picture As" or "Save Image As" menu item no longer been offered by most web browser, including Firefox, Google Chrome, Opera and Safari.
Interestingly, it's still possible to directly save a photo from Facebook via right click in IE (Internet Explorer). So if you switch from IE to other web browser, you may in for a shock when it's impossible to right click and save Facebook photos anymore.
Here's a few very easy workarounds to save photos from Facebook:
Method 1: Use Facebook Built-in Download Photo Function
When a photo is loaded in slideshow light-box, wait for the page to be fully loaded (no loading icon or progress bar). A Download link will then be offered on the bottom left corner of the overlay, to the left of comments. Click on the Download to immediately start downloading the photo shown on screen to local disk.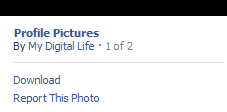 Method 2: Refresh to View Photo in Legacy Facebook Album Style
While the photo is opened in new slideshow viewing style, it's easier to revert back to old legacy photo album viewing style without the lightbox. Wait for the photo and lightbox overlay to completely loaded (no loading icon or progress bar), and the click the Refresh button of the web browser or hit F5 key. Facebook will re-load the photo in legacy photo display style, which allows user to right click on photo and save image or picture locally.