NEC has announced the world's first mobile phones which is built in with 'audio enriching' and noise-canceling SRS TruMedia. The handset includes NEC N-01A, N-02A and N-04A DoCoMo handsets which features with 3 inch screens and 200 plus minutes of 3G talk time as well as the new sound technology.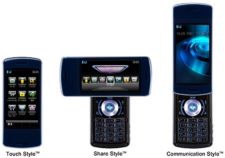 SRS TruMedia able to sharpen the spoken voice and enhance the overall volume gain in real-time, improving voice intelligibility while helping users hears more clearly.SRS TruMedia also aims to provide a cinema like 5.1 surround sound experience over headphones when viewing multichannel video content.
"While communication is still a number one feature of mobile phones, it's no longer the only use. Today's users demand superior multimedia capabilities in their phones, making a premium audio experience just as important as a clearly understood phone conversation," said Allen H. Gharapetian, Vice President of Marketing for SRS Labs.