After a long waiting, Dell has finally announced the specifications of its new ultra-thin laptop which named as Adamo XPS. The Adamo XPS is a stunning laptop which has been designed to provide a unique experience with the swipe of a finger, the keyboard that appears from under the display as the system is open. The Adamo XPS is claimed to be the world's thinnest laptop with only 0.4-inch thick.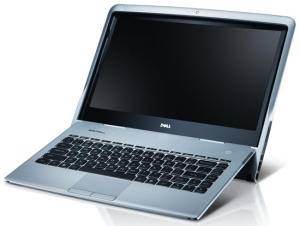 "Our engineers and designers are breaking new ground and throwing away the old rules with the introduction of Adamo XPS," said Alex Gruzen, senior vice president of Dell consumer products. "We think the Adamo XPS will inspire an emotional connection with anyone who sees it."
Key features of the Dell Adamo XPS laptop:
Adamo XPS is the thinnest laptop PC ever, at about 0.4-inch thin.
When opened, the body of the Adamo XPS is raised so the keyboard is angled to enhance cooling.
Capacitive latching device – one finger swipe opens the latch.
Built-in location awareness to provide real time local maps to show people where they are.
Replaceable battery, with optional higher-capacity battery available.
Full size keyboard with aluminum keycaps and touchpad with gestures.
Built-in 802.11n wireless.
High Definition (720p) 13.4-inch WLED display.
I/O: display port, 2xUSB 2.0, audio, Ethernet (via included dongle).
Operating system:  preloaded with Windows 7 64-bit edition.
The ultra-thin Adamo XPS with measures 13.39 x 10.71-inches and weighs just over 3lbs is expected to start shipment in time for the holidays. It is priced starting at $1799.