Nowadays, the watch phones have become more and more popular. Some of the mobile manufacturers have starting look into it as the new consumer line. Again, the Korean electronic giant, Samsung has unveiled its S9110 watch phone which claims as the world's thinnest watch phone with just 11.98mm thickness.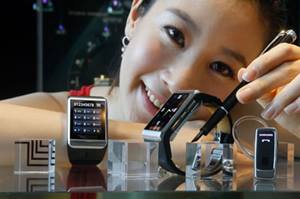 The stainless steel metal body watch phone has been integrated with a built-in speakerphone and Bluetooth supports for syncing to compatible headsets and headphones. Along with a 1.76-inch touch screen with a scratch-resistant, Samsung S9110 is also supports voice recognition and email. It also comes with music player that supports MP3 and 40MB of internal memory.
Samsung S9110 watch phone will be available in France for the price of about 450 Euro.