Xequte Smart Pix Manager is a photo and multimedia management software, which allows users to manage, view, and edit all common images, documents, sound (WMA, MP3, etc) and video files (AVI, MPEG, etc). With Smart Pix Manager, user can quickly browse the folders, or search for files using keywords, descriptions and file content. And user can click any file to view it immediately or display a sequence of images, sounds and videos as a slideshow.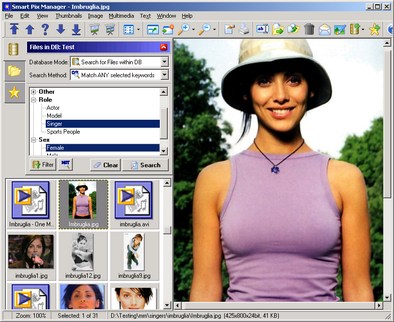 Features of Smart Pix Manager includes:
Automatically generate keywords and descriptions from file name and folder name for multimedia files.
Quickly catalog and search files by keyword, description and file content.
Archive images to CD or DVD with thumbnail browsing.
Supports over a hundred image, multimedia, Office, web, text and other formats.
Advanced file security including encryption.
Has powerful photo editor, including red-eye removal, JPEG rotation and cropping.
Batch conversion, editing and renaming of pictures.
Create thumbnails and groups of thumbnails for a online slide show.
Create animated GIF files.
Password protection.
Browsing of files in encrypted ZIPs.
Share images via e-mail with automatic reassign/conversion of images for faster sending.
The latest version of Smart Pix Manager is v11 (11.1). To promote its software, Xequte is giving away the full version of Smart Pix Manager v7 (v7.07 to be exact) for free, as a promotion for PC User December 2009 issue readers. It's an older version, but still is a full feature software, and works in Windows 7, Windows Vista, Windows XP, Windows 2000, Windows Me and Windows 98.
Follow these steps to download and receive a free registration serial key for Xequte Smart Pix Manager v7:
Visit the following URL:

http://www.xequte.com/cgi-bin/magkey.asp?sw=Smart Pix Manager&vn=v7.07&mg=PC User

Fill in all fields of the registry form to receive the free serial key code for Smart Pix Manager v7.07, and click Continue.
A registration key will be sent to the email address provided.
Download the Xequte Smart Pix Manager v7.07 setup installer: spix707.exe.
Install the application, and use the serial number received to unlock the full version product (About -> Enter Key).