Sony Ericsson has announced two new compact versions of Xperia X10 which are named as Xperia X10 mini and X10 mini pro. The phones have been designed to deliver powerful and application packed into the mobile phones industry. The ultra compact phones have been incorporated with Sony Ericsson Timescape application which enable users to view text messages, missed calls, Facebook and Twitter updates in one place.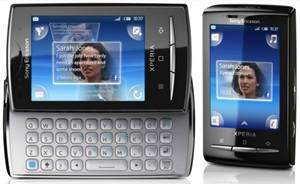 "There has been an enormous buzz around Xperia™ X10 so it is really exciting to be already unveiling compact versions of this powerful proposition." said by Rikko Sakaguchi, EVP and Chief Creation Officer, Sony Ericsson. "With the X10 mini and X10 mini pro we have pushed the boundaries of what is possible with smaller devices and are giving consumers exactly what they want; two high performance mobile phones with a fully customisable user experience platform and a stunning ultra-compact design."
Key features of Xperia™ X10 mini and X10 mini pro includes:
5-megapixel camera and video – share creations via the web.
Four corner control – applications, calls, web, the consumer decides. Four customisable icons for ultimate control.
Music player links to music stores and YouTube.
Android platform – with Google services and Android Market.
QWERTY keyboard – slide and text for quick and easy messaging (Xperia™ X10 mini pro only).
X10 mini and X10 mini pro supports HSPA 900/2100 and EDGE 850/900/1800/1900, HSPA 850/1900/2100 and EDGE 850/900/1800/1900.
Available in Pearl White, Black, Pink, Lime, Red and Silver, both phones are expected to be available in selected markets in Q2 2010.