Yahoo! Publisher Network (YPN, which also known as "YPNO" or "Yahoo Publisher Network Online") has been in beta development since its introduction in 2005, and yet to open to non-US or international publishers. When launched, it's highly regarded as one possible alternative to dominant Google AdSense. But, it seems that Yahoo! Publisher Network has failed miserably, and nobody will be able to sign up and register as self-service publisher as YPN is shutting down.

An email had been sent to publishers on self-service YPN that the program will be closed effective April 30, 2010.
Dear Publisher,

Yahoo! continuously evaluates and prioritizes our products and services, in alignment with business goals and our continued commitment to deliver the best consumer and advertiser experiences. After conducting an extensive review of the Yahoo! Publisher Network beta program, we have decided to close the program effective April 30, 2010. We expect to deliver final publisher payments for the month ending April 30, 2010 to publishers no later than May 31, 2010. All publishers eligible for 1099s for the 2010 tax year will have those mailed by January 31, 2011.

Because our content will no longer be delivered to your ad unit spaces after April 30, 2010, we recommend removing all YPN ad code from your pages by that date.

For the opportunity to continue earning revenue, we suggest using Chitika, a leading advertising network that syndicates Yahoo! Content Match and Sponsored Search ads. Chitika has set up a special process for YPNO beta publishers to participate in its platform. Click here for more information.

We thank you for your participation in the Yahoo! Publisher Network beta. If you have any questions regarding this announcement, please contact our Support Team at (866) 785-2636, Monday through Friday from 7:00 a.m. to 5:00 p.m. PDT.

Sincerely,

Your Partners at Yahoo!
YPN blog has confirmed the decision, and clarified that the closure of YPN does not affect large, direct publishers and partners, nor advertisers using Content Match, but only "small group" of publishers using self-service platform for small publishers who syndicate our Content Match (contextual text-based ads) listings. Sponsored Search ads are not affected by this announcement at all.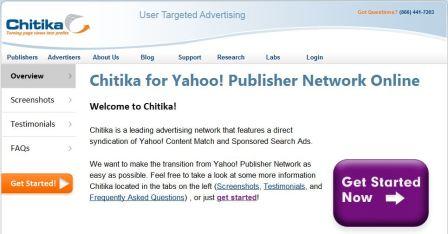 Web publishers who want to continue to display advertisements can switch to sign up with Chitika (aff) instead, which has been featuring direct syndication of Yahoo! Content Match and Sponsored Search Ads advertising inventory. The availability of Yahoo! ads network through Chitika will be a good news to web publishers, as it's CPC (cost-per-click) based, available worldwide for all international publishers, better than average advertising inventory from Yahoo! (not better than Google AdSense though, so the last point is important) and best of all, it can be used alongside with Google AdSense. In fact, a whole landing page for existing YPNO publishers have been set up by Chitika to welcome them at http://www.chitika.com/ypno/