Yahoo has re-launched IndexTools as Yahoo Web Analytics. IndexTools is a web analytics package which brought in April 2008. Yahoo Web Analytics is an enterprise site analytics tool that provides real time visitor behavior on website. With the powerful and flexible tools and dashboards, it able to provide the marketers and website designer with useful analysis reports that will enhance their visitor experience, increase sales, increase traffic and reduce marketing cost.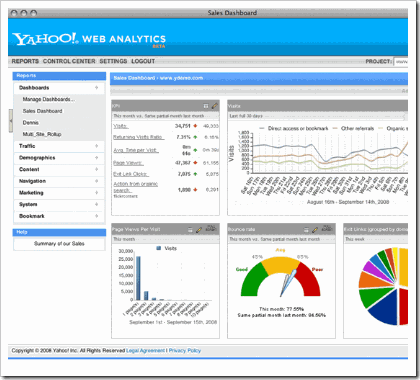 The key features and benefits of Yahoo Web Analytics as below:
Executive Dashboards- Able to set the key performance metrics with the customizable executive dashboards.
Custom Report- Pre-defined the reports with the Custom Report Wizard.
Advanced compaign management- Track and optimize your marketing compaigns.
Real Time Segmentation- Able to analyze how different groups of visitors respond to different variables on your site.
Live Cost Analysis- Able to compare search engine price information for help keep revenues in check.
Merchandise Reporting- Able to Identify purchase pattern for promote profitable products.
Senario analysis- Able to analyze visitor paths to reduce customer drop-off
Comparative Reporting- Compare reports from two time period with side by side.
Advanced Path Analysis- Get in depth insight into visitor navigation around the site.
Marketing Workflow Management – Enchance the site monitoring and report management capabilities.
Currently, Yahoo Web Analytics is available in beta version for yahoo partner like developers, advertisers or Yahoo Small Business users.