Zemana AntiLogger is a security software that provides protection against keystroke logging, SSL banker trojans, spyware, malware, webcam logging, screen logging, clipboard logging and other activities. Zemana AntiLogger also can protect online communication application, sensitive login information such as password and prevents fraudulent websites with the intent to steal personal privacy information. In addition, Zemana AntiLogger also comes with anti-SSL Logger feature to protect all operations that use SSL protocol, Anti-WebCam Logger (first in the world) to prevent any harmful applications from monitoring the Web Camera, and Anti-Screen Logger.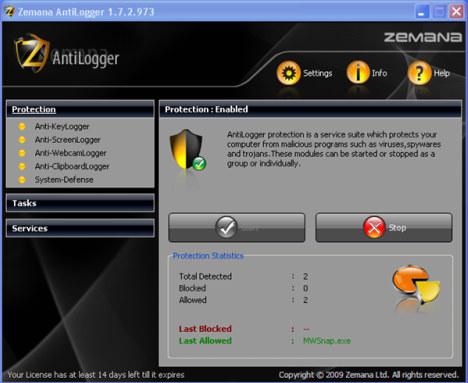 Features of Zemana AntiLogger:
Secure Your Internet Banking and Safe Online Shopping
Secure internet banking and financial transactions
Protect your information in Emails and Instant Messages
can perform safely and securely for bank online and other financial transactions
Defeat malware programs that seek to capture your sensitive data before it's encrypted.
Actively monitor and shut down keyloggers, SSL banker trojans, spyware, and other malware.
Defend against programs that other antivirus application let through.
Zemana AntiLogger normally cost $39.50 for purchase. As part of promotional offer, Zemana is giving away the free 1 year Zemana AntiLogger license key with no registration required, no hidden costs, and no third-party software bundles. Interested users now can grab the free 365 Days Zemana AntiLogger 1.9.2.18 license by follow the step below:
Visit the Zemana AntiLogger promotional page at:
Click the FREE Full Version Download Now button to download the installer AntiLogger_SOFTPEDIA_1.9.2.185.exe.
Install and reboot your computer.
Activate the program by following the on-screen instructions.
Zemana AntiLogger supports Windows Vista, Windows XP, and Windows 7.
Update: Free 1 year license serial key code for Zemana AntiLogger 1.9.2 (1.9.2.201 or 1.9.2.203)