Zemanta is one of the popular blogging tools for some bloggers to help them to add relevant content to their posts and promises to save time and bring in more traffic. This blogging tool, for instance, adds in relevant photos, related links, etc to a post's content and thus enhance the presentation format as well as the reading interest. Zemanta has upgraded and improved its existing service via the newly released version. Zemanta's latest release has seen major improvements in term of features; the services for users are more personalized now.

This new Zemata service focuses on three main areas. Zemanta now allows users to incorporate other accounts in their Zemanta account. Users can incorporate their social network accounts such as FaceBook, MyBlogLog, Twitter, RSS feeds and the photo banks in their Flickr account into Zemanta. With this personalized data, bloggers will be inspired with more ideas in their blogging besides reducing the time needed to browse their photo gallery. The new Zemanta also added a new filter feature. Users can specify the terms or recommendations for Zemanta to focus on. This feature will enable users to have more control over the bias of returned results.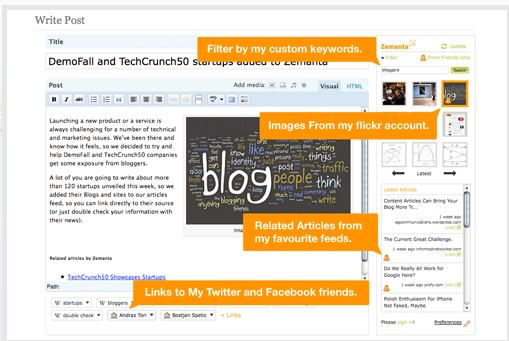 Other than these improvements, the new Zemanta also improved the overall performance such as new light-weight widget design, included multiple images through an intuitive drag and drop interface, date- and topic- based browsing through Popular and supported new platform DotClear and Rotten Tomatoes movies database.
Zemanta is also an add-on to Firefox and Internet Explorer. Users can read more on the release note.