With the increasing demand of greater visual and multimedia experience in mobile device, there is a need of more powerful mobile processor that can handle video and graphics processing. Just recently, ZiiLabs has reached another milestone by unveiling a next generation mobile processor targeted for media playback capability exceeding 1080p full HD (High Definition). Named as ZMS-08, it is based on ARM Cortex architecture clocking at 1GHz that is believed to be able to accelerate and display the High Profile H.264 format at 40Mbps equivalent to Blu-ray technology.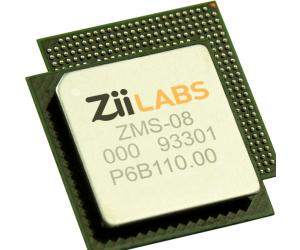 Technically, the new SoC (System-on-Chip) can render a billion pixels per second compliant to OpenGL ES 2.0 3D graphics and Adobe Flash 10 for great portable gaming and web browsing experience. Meanwhile, it can boost a Blu-ray playback quality with simultaneously decode and encode of 720p media clips, which can be quite heavy for conventional mobile processor or GPU. To enhance its multimedia capability, it adds an Xtreme Fidelity X-Fi audio technology targeted to deliver crystal clear premium audio quality while on the move. That is not all, it integrates internal 256kB L2 cache, TrustZone security encryption engine, USB OTG (On-the-Go) controller and all these are well packed into tiny form factor of only 13 X 13mm FPGA package size.
No pricing information yet, the processor is already in sampling stage now for selected board vendors and will be entering mass production with shipment availability by first quarter of 2010.