ZoneLINK Multicore Optimizer is a utility software that perform optimizer for all multi-core processor systems. ZoneLINK Multicore Optimizer comes with simple and easy to used interface that can manage all running processes. In addition, it also comes with automatic 1-click functions that can increase general system performance and the tachometer system as gadget for Windows Vista and Windows 7. Multicore Optimizer also can speed up the application and games in the systems.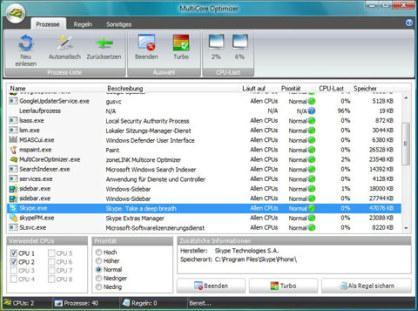 Features of ZoneLINK Multicore Optimizer:
Turbo-button to speed up one process
Automatic-button
Accelerated games and applications
Supports up to 8 CPU cores
Low resource usage
Optimization for a balanced system performance
Optimization of system performance and also save it directly as rules
Storable rules for more comfort when you restart the PC
Import and export function for rules
Extensive search (date, file type, size)
End Process and process information
See detailed information about processes and system
Save profiles to automatically start your PC with your personalized setting
Integrated System Update
ZoneLINK Multicore Optimizer normally cost $20 for purchase. To promote its software, ZoneLINK is giving away free license for ZoneLINK Multicore Optimizer in joint promotion with PC Format magazine. Interested users now can download and install ZoneLINK Multicore Optimizer with a genuine license key for free full version product.
To grab a free full version license of ZoneLINK Multicore Optimizer, follow these steps:
Go to the following URL:
Fill in the valid email and then click Request License Key button.
An email with license key for ZoneLINK Multicore Optimizer will be sent to the registered email address.

Download the ZoneLINK Multicore Optimizer setup installer: ZoneLINK MultiCoreOptimizer.zip
Enter the license key during installation to activate the full version of ZoneLINK Multicore Optimizer.
ZoneLINK Multicore Optimizer works in Windows XP and Windows Vista (32-bit).