If you are dealing a lot with presentation whether to internal or external customers and is looking for some simple utilities to help your live presentation, here is one of the tools that may able to assist you. Named as ZoomIt, it allows presenters to dynamically zoom into specific area with ability to activate the drawing or typing function directly on the presentation foils for much more effective sharing session.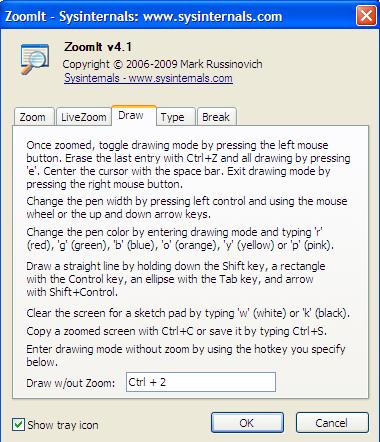 Once download and run the utility, it will stay quietly at your system tray. Clicking on it will bring up a setup menu that allows users to configure the functions activation using hotkeys. Basically there are five simple functions namely 'Zoom', 'LiveZoom', 'Draw', 'Type' and 'Break' and with self explanatory notes appeared when you select each function tabs, users can start to use them without much learning curve required. For the start, whenever there is a need to zoom into certain area the middle of presentation, just click on hotkey combination and the utility will zoom into the area where your cursor is pointing at. While in the zoom mode, the presenter can toggle to drawing or typing mode with certain controls such as changing pen color, erasing last entry, control font size and many more. This is especially useful for those that needs a separate whiteboard for more clearer illustration or elaboration regardless of what types of presentations they are in. That is not all, there is a timer mode (under Break mode) that users can configure so that it will stay active even when users tab away from the timer window.
Compatible with all Windows Operating Systems, ZoomIt consumes less than 300kB and is definitely a good solution for all professional and business executives.