One of the market leaders for memory storage products, Seagate has expanded its highly-popular FreeAgent GoFlex ultra-portable drive portfolio with the launch of new high-capacity 1.5 terabyte Seagate FreeAgent GoFlex external hard drive, which the company claims as the world's first 1.5TB 2.5-inch portable HDD. In addition to the record-breaking storage capacity, the 1.5TB FreeAgent GoFlex also features a high-speed USB 3.0 connectivity that performs up to 10x faster than USB 2.0, capable of storing up to 60 high-definition movies, 750 games, thousands of photos or tens of thousands hours of music with just a single compact device.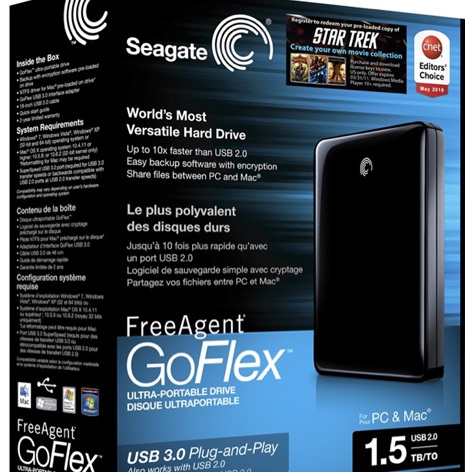 "Today's announcement is a 'triple-crown' of consumer technology—packaging record breaking capacity, blazingly fast USB 3.0 connectivity and the bonus of movie entertainment—making the 1.5TB GoFlex ultra-portable drive an unprecedented and innovative solution," commented Darcy Clarkson, vice president of Global Retail Sales and Marketing at Seagate. "Bringing this solution to market on the heels of our 3TB GoFlex Desk drive and the Momentus XT solid state hybrid drive is proof of Seagate's continuing technology leadership and tradition of setting storage industry milestones."
The new 1.5TB Seagate FreeAgent GoFlex ultra-portable HDD that pre-loaded with a blockbuster Paramount film (Star Trek) and comes with a high-speed USB 3.0 adapter is now available for around $250, fully compatible with both Windows and Mac computers.