USB 3.0, or better known as SuperSpeed USB is still something very new with limited chipset support in PC market. In case you can't wait to upgrade your PC system but intend to have USB 3.0 feature enabled in your laptop, now this newly announced ExpressCard USB 3.0 adapter from StarTech will able to assist you.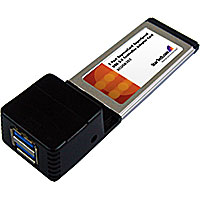 Internally powered by NEC uPD720200, the new USB 3.0 adapter card can be plugged into any compatible ExpressCard slot that offers you additional functionality on top of conventional feature sets. While it can scale up to 5Gbps theoretically, which is more than 10 times of what can be achieved by current USB 2.0 host port, the device is fully backward compatible to work with existing USB 2.0 or even 1.1 version device so that you won't have to worry about the lack of USB 3.0 devices current market. In comparison, you can transfer 25GB of data in 70 seconds versus a much longer 14 minutes when running on USB 2.0 protocol for more effective work. That is not all, there is an optional AC adaptor that can be sourced with 900mA for each port to cater for additional devices connection.
The adapter is already available for pre-order now and at a price of only $49.99, it is quite affordable as compared to when you need to upgrade the whole motherboard with the new SuperSpeed port support.