Posted:
December 26, 2008
/
Under:
Operating Systems
/
By:
My Digital Life Editorial Team

EASEUS Photo Recovery is a data recovery software similar to Lexar Image Rescue that specializes in recovering and salvaging photos, music and videos from local PC, removable devices and memory cards. With the popularity of digital camera with video shooting capability, tons of video and image media files have been created and stored on hard disk drives or Flash based memory key card, which subjected to accidental deletion, formatting and file system corruption. Sometimes, the pictures or media files can even go missing and cannot be found for unknown reasons.

EUSEUS Photo Recovery can solve all kind of headache by easily recovering and restoring the lost photos, movies and audio files. EASEUS Photo Recovery works on all kind of memory card, including CompactFlash (CF), Memory Stick (MS) Duo, Memory Stick Pro, Memory Stick Pro Duo, miniSD, MultiMediaCard (MMC), SecureDigital (SD), SmartMedia, xD Picture Card, Micro Drive, and all hard disk drive, ZIP disk, PCMCIA PC, floppy disk. The software also works directly with digital cell phone or PDA connected as portable drive and digital camera of most manufacturer brands such as Canon, Kodak, Nikon, Fuji, Konica, HP, Agfa , FujiFilm, Polaroid, Casio, Olympus, Sony, Samsung, Panasonic, NEC, Imation, Sanyo, Epson, IBM, Minolta, Goldstar, LG, Sharp, Lexar, Mitsubishi, Kyocera, JVC, Leica , Phillips, Toshiba, SanDisk, Chinon, Ricoh, Hitachi, Pentax , Kinon, Verbatim, Vivitar, Yashica, Argus and etc.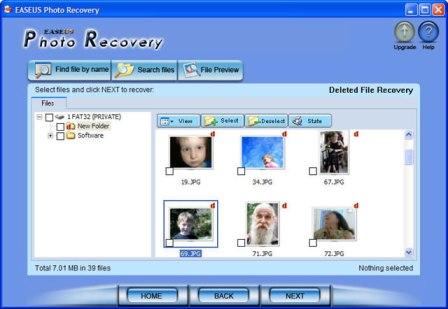 Features of EASEUS Photo Recovery:
Restores photos after deletion, disk format and partition corruption.
Retrieves almost all types of photos, movies and sounds files.
Recovers from local PC and various removable devices.
Supports FAT 12, FAT 16, FAT 32 and NTFS file system.
Supports windows 2000/2003/XP/VISTA.
Previews recoverable photos.
Fast and easy-to-use with a Graphical User Interface.
Safest read only software
EASEUS Photo Recovery is actually a subset of EASEUS Data Recovery Wizard and only works with following file formats:
Image: JPG, JPEG, GIF, BMP, TIFF, PNG, RIFF, TIF
Audio: MP3, WMA, WMV, MID, AIF, WAV, MIDI
Video: MOV, AVI, MPG, RM, 3GP, MP4, QuickTime, MPEG, MOV
If you don't want to spend too much on a reliable and actually working full featured recovery software like EASEUS Data Recovery Wizard with 25% discount coupon code for My Digital Life readers, and only want to recover lost or deleted photos and images, then download and install EASEUS Photo Recovery trial version to preview any recoverable files and verify that it will work before actually ordering one. Trial version does not support actual data recovery.
Warning: DO NOT DOWNLOAD AND INSTALL THE SOFTWARE ON THE DRIVE THAT CONTAINS LOST DATA. THIS MAY CAUSE DISK OVERWRITE AND PERMANENT DATA LOSS!
EASEUS Photo Recovery costs US$ 29.95. My Digital Life readers can get additional 25% discount off the listed price by using the following promotional coupon code and Buy Now link:
Buy EASEUS Photo Recovery Now
Coupon Code: MDL-RWJV-EPR
Note: If the coupon code is not accepted, try to clear the cookies and caches before clicking on the Buy Now link above again.