The famous manufacturer of Bluetooth consumer products, Bluetrek has recently introduced its new Bluetooth gadget, named as Bizz, which the company claims as the world's first 3-in-1 bluetooth headset, combining a functionality of USB flash drive and direct charge via USB 2.0, as what you see in the picture.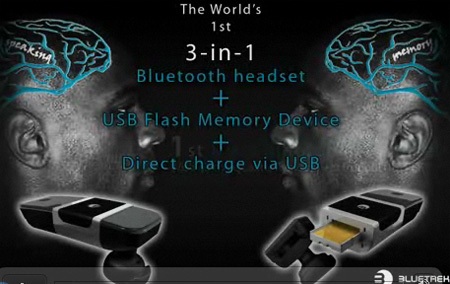 In addition, the Bizz also performs as a microSD (up to 8GB) memory card reader as well, aiming to enhance your data transferring experience. According to the company, the new Bluetrek Bizz can support up to 6 hours of talk time or up to 10 days on standby time.
The new Bluetrek Bizz Bluetooth headset that weighs only 10g is available for around $80.