The worldwide leading maker of flash memory cards, SanDisk Corporation has launched its new 64GB SanDisk Ultra SDXC card, which SanDisk claims as its highest capacity SD memory card on the market, featuring fast transfer speed up to 15MB per second, and Class 4 rating to ensure smooth HD movie record and playback, seems perfect for the newest SDXC-capable high-end cameras and 1080p HD camcorders.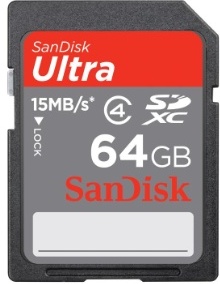 According to the corporation, SanDisk Ultra SDXC card is based on new SD 3.0 specification that can manufacture up to 2TB SD memory cards.
"SDXC is the successor to the popular SDHC card format," commented Susan Park, director for retail product marketing at SanDisk. "The 64GB SanDisk Ultra SDXC card delivers the speed and capacity consumers need for extended HD video recording and improved rapid shooting of still images. The card is an ideal complement for recently-announced SDXC-compatible cameras and camcorders."
The new SanDisk 64GB Ultra SDXC memory card that able to store over 8 hours of HD video with recording speed of 9 Mbps is now available for approximately $350.