The leader in electronic paper display (EPD) technologies, E Ink Corporation has announced that it is offering 9.7-inch AM-300 EPD Prototype Kits. These offers will enable the development across a wider range of electronic paper applications. The high-resolution and large-size display has been improved for new content delivery such as newspapers, textbooks, notepads and documents.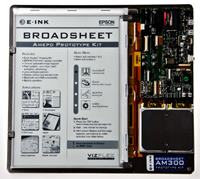 "The success in the eBook space has prompted a lot of interest in eNewspaper and eTextbook applications," said Sriram Peruvemba, Vice President of Marketing for E Ink. "E Ink Vizplex™ displays provide the best digital reading experience, and are fast becoming a better alternative to printed paper in certain applications."
AM-300 EPD is featured with 150 pixels per inch that can display multiple shades of gray, able to read text in a dark room, in direct sunlight and at any angle of view. The device also can be set to idle and the power is needed once the page is turned on.
In addition, AM-300 EPD is a graphical electronic display with pen input, supports Linux x86 operating environment, include E Ink API software for Broadsheet, various sample images, open source software drives, supports MMC card, has built-in Bluetooth and USB port.
The AM-300 EPD Prototype Kits will be shipping by end of May and is now available online for pre-orders at E Ink site.