We have mentioned about next generation Pinetrail based netbook solutions from Lenovo's Ideapad FL5-B3 and Fujitsu's Lifebook MH380 earlier, now seems that Acer has followed their steps to come out with its first Pinetrail netbook under its Aspire One family based on downloadable driver source from its official website. Named as Aspire One AO532H-xx, it will be powered by Intel Atom Pineview N450 processor targeted for thermally efficient mobile computing.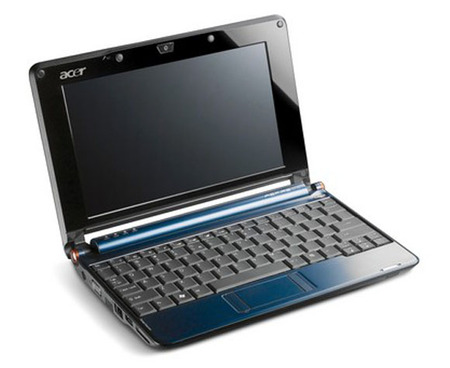 The N450 will be clocking at maximum of 1.66GHz which is slightly faster than typical nettop specification that topped at 1.6GHz. And utilizing its upcoming GMA3150 integrated graphics chipset solution, it can easily scale up the display resolution up to 1280 x 720 pixels to be displayed on a 10.1-inch LCD panel with controllable LED backlight capability. Some other hardware specifications include a 1GB memory RAM, an option of either 160GB or 250GB hard disk drive, Ethernet, USB ports, a 0.3-megapixel camera module as well as VGA output for external display. Comparatively, Fujitsu Lifebook is better in terms of display resolution with FWXGA 1366 X 768 pixels besides a more advanced built in 802.11n WLAN module.
No confirmed date on availability yet, the netbook will be available in few models with choices of red, blue, silver and black color. Preloaded with Windows 7 Starter Edition Operating System, it will be reaching consumer market soon with retail price of around $440.