Dual boot feature is not something really new but it has continued to be offered by some PC manufacturers as a differentiation feature from the rest. Just recently, Acer has upgraded its Acer Aspire One with the new offer on dual boot netbook featuring Google Android and Microsoft Windows XP Operating System targeted for those that would like to get the best out of both.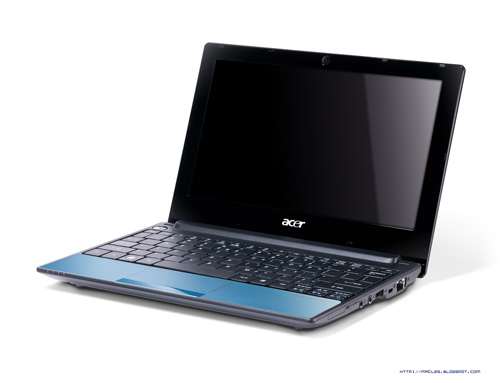 The Acer Aspire One AOD255 is a new successor for its predecessor model, AOD250 with major refresh mainly on its processor. Replaced with the latest Intel Atom N450 (AOD250 was designed with Intel Atom N280 at 1.66GHz) clocking at 1.66GHz, it provides sufficient processing power for normal office applications while maintaining relatively low power consumption for true mobility. Backed up with 1GB DDR2 memory and 160GB hard disk drive, it is good enough to keep the BOM (Bill Of Material) low to stay competitively in market. As similar to most of other rival's products, the machine is equipped with a 10.1-inch LVDS panel with 3-cell Lithium-Ion battery pack (with upgradable option to 6-cell battery at $95). What is more impressive here is its ability to boot with dual Operating Systems, with Android targeted for fast boot, instant ON network connectivity while leaving Windows XP as its main operating systems for office tasks.
Currently the machine is already available at preview during Taipei Computer Application Show and those attendees can get special offer price of $300. No official public availability yet, the estimated selling price is around $375 so do grab one when you have chance to visit the computer show held in Taiwan from August 5th to 9th.