Portable thumb drive usage is so common nowadays that almost every computer users will have one for file storage and transfer. With the technology advancement, it has been evolved from 'thumb' size into smaller form factor so that it can be handy to be carried around. In order to compete against Super Talent which is famous for its tiny USB flash drive series, the recent release named as Active Media Wink has replaced it as the world's tiniest USB flash drive in consumer market.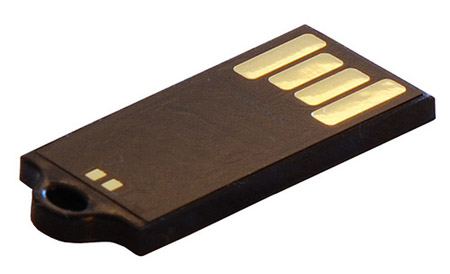 Measured at around 30.5 X 12.7 X 2.5mm and weighted merely 1.5 gram, the new USB flash drive can cater for storage capacity from minimum of 2GB, 4GB, 8GB up to maximum of 16GB, covering different consumers' needs for additional storage at affordable price. Besides, the USB flash drive is designed with waterproof coating and highly durable polymer material that is able to extend its usage from normal use even to harsh and extreme environment.
In terms of pricing, it is quite comparable with what already have in existing market with starting price ranging from $7.95 for 2GB up to $37.95 for 16GB version. The flash drive is already available now at Amazon and consumers can get their favorite memory capacity flash drive for truly portable usage.