Adobe has announced the latest version of lightweight photo editing software Adobe Photoshop Elements 8.0. Photoshop Elements targets on different audience from Adobe's better-known Photoshop. It comes with a much smaller price tag and is intended for regular and casual users, who want some more advanced features than what they get in most photo managers and editors.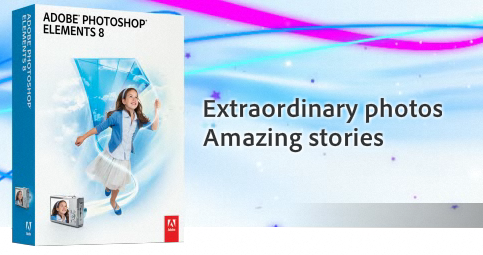 The Adobe Photoshop Elements 8.0 will be available for Windows and Mac. The software is priced at $79.99 and tentatively available next month. It is now available for pre-order from Amazon.com
(aff) or Adobe website.
Windows users in the US will also be able to subscribe to the Plus online service, which offers 20 GB of space and access to online tutorials and other resources for $49.99 per month.
Elements 8 features an improved Organizer, making it easier to find photos and videos. It also has the Auto-Analyzer, which automatically tags the media depending on its quality. It features face recognition technology that is similar to Google's recently launched Picasa 3.5 People Recognition. It does what its name says, automatically identifies people in the photos and tags them accordingly.
From photo editing perspective, Elements 8 features new features such as Photomerge Exposure. It enables merges of several photos taken from same scene to create a better-looking photo especially for the ones taken in poor lighting conditions. A couple of new tools to fix less than perfect photos have also been added.
Adobe offers the new online service Plus. It offers storage space for backup and also a regular stream of tutorials, tips and tricks and templates accessible from inside the program itself.
Key Features
Get fresh inspiration, just when you need it:
Give your creations a whimsical or dramatic new look with the latest assortment of inspiring ideas, seasonal artwork, templates, and tutorials – delivered regularly to your software.
View your photos virtually anywhere:
Show off your favorite photos from any web-enabled computer.
Categorize by tagging:
Easily tag photos with keywords that represent people, places, or events.
Find photos faster than ever:
Find photos in a flash by typing keywords for tags, dates, and other file information into a new search box.
Select and apply with a single stroke:
Simultaneously select a specific photo area and apply incredible effects with a single stroke of new Adobe Smart Brush. Improve lighting, add rich textures, and more with eight libraries of over 50 sophisticated effects.
Create the perfect group shot:
Photomerge Group Shot lets you easily combine the best facial expressions and body language from a series of group shots to create a single perfect composite.
Clean up the scene of unwanted elements:
Use Adobe Photomerge Scene Cleaner to simply brush away any elements that changed positions between photos and create a composite with just the look you want.
Create photo books with ease:
Create professional-looking photo books with flexible options. When your book is finished, just click the Order button to have it professionally printed, hardbound, and delivered to your door.

Map the memories:
Create a personal web travelogue for friends and family, or just relive memories of your journey by viewing and sharing your photos on an interactive map based on the locations where they were taken.
Share experiences in fresh, exciting ways on the web:
Showcase your photos in one-of-a-kind Online Albums.
Share with family and friends using integrated online offerings:
Easily order prints, share photos and photo creations on the web, share on CEIVA Digital Photo Frames, and more from within Photoshop Elements.