Elements is the brand name used by Adobe to indicate the consumer version of its more advanced professional products, with a much cheaper price tag targeted at mass market. Adobe has two software applications which is of Elements series, namely Adobe Photoshop Elements (pse) and Adoble Premiere Elements (pre). The latest version of the two products are both version 8, and were released on September 2009.

Features of Adobe Photoshop Elements 8 and Adobe Premiere Elements include: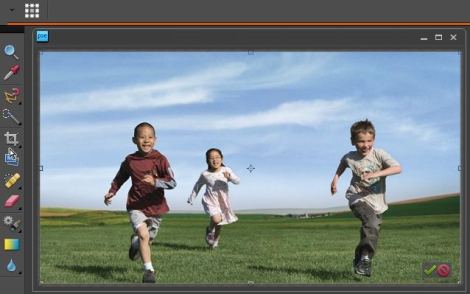 Easily manage your photos and videos together from one convenient, shared Organizer
Find photos of specific people fast with automatic People Recognition
See full-screen photo and video previews in the Organizer, and edit photos full screen
See the same photos and videos on all your computers with automatic syncing
Get automatic online backup and 2GB of storage
View your photos and movies from any web-enabled computer
Quickly find your best photos and video clips with the Auto-Analyzer
Organize photos and video clips with visual tags
Recompose your photos to any size without distorting key subjects
Create perfectly lit shots with Photomerge technology
Preview a range of adjustments before choosing the best one
Get ongoing photo-editing tutorials with helpful tips and tricks
Whiten teeth and make skies bluer in one step
Simultaneously select an area and apply incredible effects with a single brushstroke
Easily clear your scene of unwanted moving elements with Photomerge technology
Fix red eye and improve skin tones with one click
Create great group shots and panoramas with Photomerge technology
Have shaky footage and color and lighting problems fixed automatically
Have unwanted footage trimmed automatically
Use automated options to intelligently balance audio elements
Get ongoing video-editing tutorials with helpful tips and tricks
Effortlessly create a polished movie by choosing a theme and letting InstantMovie do the editing
Create your movie with drag-and-drop ease in the Sceneline
Easily edit slide shows and movies to the beat of a favorite song
Use motion tracking to add graphics that automatically move with the subjects in your scenes
Add graphics, frames, and animations from a new clip art library
Easily combine elements from different videos for entertaining results
Add musical soundtracks that automatically adjust to match the length of your movie
Jazz up the action with effects, transitions, and movie themes
Showcase photos and videos together in one-of-kind Online Album templates
Share photos and movies on Apple iPhones
Use flexible photo layouts to create scrapbook pages, CD/DVD labels, and more
Easily share photos via e-mail and on websites and TVs
Share movies on DVD, Blu-ray Disc, mobile devices, and YouTube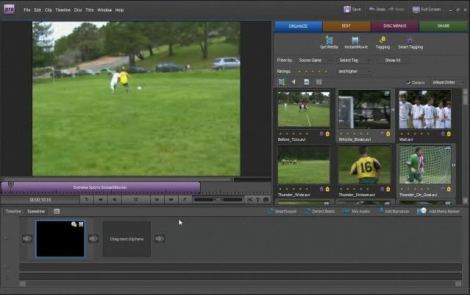 Adobe is offering free download of Adobe Photoshop Elements 8 and Adobe Premiere Elements 8 trial demo version, which can run for 30 days of free usage without limitation. However, to download Adobe Photoshop Elements and Adobe Premiere Elements 8 trial setup installer from Adobe, users are required to create or sign into Adobe account. To workaround the Adobe account requirement, end-user can try to use the following direct download link to the genuine, authentic, and original setup installers of Adobe Photoshop Elements 8 and Adobe Premiere Elements 8. The download is the same which user will download from official Adobe website, and is hosted on Adobe servers. The download links also allow user to download Adobe Photoshop Elements 8 and Adobe Premiere Elements 8 without using the Akamai Download Manager.
Note 1: The trial version can be converted to full production and fully licensed version by simply entering a genuine activation product serial key number from retail or volume licensing channel and activate the product and unlock all restrictions.
Note 2: As the download size is big, it's recommended to use a download manager so that the download can resume if terminated prematurely.
Important: For the direct download links of Adobe Photoshop Elements 8 and Adobe Premiere Elements 8 to work, downloader has to visit and click on "Try" link of at least one Adobe product in order to set the proper download cookies which permit direct download. For example, just click here or here, which is the link to download Windows version of Adobe Photoshop Elements 8 and Adobe Premiere Elements 8 trial respectively. If the step above still does not allow direct download, register and/or login to Adobe account. Otherwise, an "Access Denied" error message will be displayed indicating you don't have permission to access the file.
Tip: The Windows version of setup installer contains 2 parts, which ends with .exe and .7z file extension. Both files must be completely downloaded and placed inside the same folder for the self-extracting setup to work.
Adobe Photoshop Elements 8 Direct Download Links
Supported Languages: English, French, German, Italian, Spanish, Portuguese, Dutch, Swedish, Japanese, Chinese (Simplified)
Windows 1: http://trials.adobe.com/AdobeProducts/PSE/PhotoshopElements_8_MUL.exe
Windows 2: http://trials.adobe.com/AdobeProducts/PSE/PhotoshopElements_8_MUL.7z
Mac OS X: http://trials.adobe.com/AdobeProducts/PSE/PhotoshopElements_8_WWEFDJ.dmg
Adobe Photoshop Premiere 8 Direct Download Links
Supported Languages: English, French, German, Italian, Spanish, Portuguese, Dutch, Swedish, Japanese, Chinese (Simplified)
Supported Platform: Only 64-bit (x64) operating system
Windows 1: http://trials.adobe.com/AdobeProducts/PSE/PremiereElements_8_LS8.exe
Windows 2: http://trials.adobe.com/AdobeProducts/PSE/PremiereElements_8_LS8.7z
Additional Content for Adobe Photoshop Premiere 8
File 1: http://trials.adobe.com/AdobeProducts/PRE/PremiereElements_8_Content_LS8.exe
File 2: http://trials.adobe.com/AdobeProducts/PRE/PremiereElements_8_Content_LS8.7z
Update: Download Adobe Photoshop Elements 9 or download Adobe Premiere Elements 9