Adobe Flash Builder 4, which is the new brand name and successor of Adobe Flex Builder 3, is an integrated development environment (IDE) built on the Eclipse platform which is designed to help software developers rapidly develop cross-platform rich Internet applications (RIA) and desktop applications using the open source Flex framework, particularly on the Adobe Flash platform. Adobe Flash Builder 4 has been included as part of Adobe Creative Suite 5.

Adobe Flash Builder 4 includes support for intelligent coding, debugging, and visual design and features powerful testing tools that speed up development and lead to higher performing applications. The features and functionality that are new or enhanced in Adobe Flash Builder 4 include:
Data-centric development with Introspect Java, PHP, Adobe ColdFusion, REST, and SOAP services to display methods and properties in the new Data/Service Explorer
Integration with Adobe Flash Catalyst
Network Monitor (Premium edition only)
Command line build (Premium edition only)
Flex unit testing integration (Premium edition only)
Automatic generation of common code
Code refactoring
Rich visual layout
Debugger improvements
Custom templates in new MXML, ActionScript, and CSS files
Flex Theme Browser
ASDoc support
Adobe Flash Professional workflow
Skinning and styling enhanced
Part of Creative Suite 5 Web Premium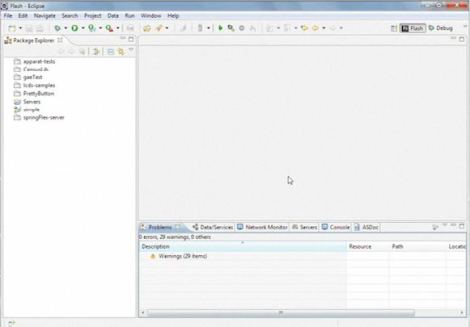 Some people may confuse with differences between Adobe Flash Builder 4, which was released early 2010, and Adobe Flash CS5, which was released mid 2010. The Flash Builder 4 (FB 4) is geared more towards coders or developers whereas Adobe Flash CS4, which stage and timeline to place visual elements into Flash and animate without additional coding, is targeted towards designers. Flash Builder 4 has IDE of better feature, but only allows ActionScript/MXML code and layout. Both products can share the same ActionScript file.
Adobe has been giving away free license the flash development software since its predecessor, including Adobe Flex Builder 3 Pro, for people in the education. And the free giveaway continues for Adobe Flash Builder 4, where Adobe Flash Builder 4 Standard is free to the following groups of people:
Students, faculty and staff of eligible educational institutions
Software developers who are affected by the current economic condition and are currently unemployed
Event attendees who receive a special promotional code at their event
Adobe Flash Builder 4 Standard costs $249 for a license while its more advanced sibling Adobe Flash Builder 4 Premium costs $699 for a license. The free license giveaway for Adobe Flash Builder 4 has been made broadly available, thanks to the offer for software developers who are supposedly currently unemployed. The criteria, however, is hard to verify, with no proof of unemployment required. The broaden of free license availability may be on purpose to increase the popularity of Flash though, with imminent competition from HTML5.
To get the free license for Adobe Flash Builder 4 Standard with a genuine and legit activation serial number to activate the product, visit the following web page:
http://www.adobe.com/devnet/flex/free/index.html
Fill out the form, and select the reason for applying. Proof of eligibility is required if you selects Students or Education Faculty Members, and the free software cannot be used for commercial purpose.
Applicant should receive the download instructions and the serial number via email within two weeks.
Meanwhile, it's possible to download the free trial of Adobe Flash Builder 4 from adobe.com or simply using the following direct download links (after clicking on get trial link earlier, and sign in to Adobe Account if access denied):
Adobe Flash Builder 4 Premium English Eclipse Plug-in for Mac OS X:
http://trials.adobe.com/AdobeProducts/FLBR/4/osx10/FlashBuilder_4_Plugin_LS10.dmg
Adobe Flash Builder 4 Premium English Eclipse Plug-in for Windows:
http://trials.adobe.com/AdobeProducts/FLBR/4/win32/FlashBuilder_4_Plugin_LS10.exe
Adobe Flash Builder 4 Premium English Standalone for Mac OS X:
http://trials.adobe.com/AdobeProducts/FLBR/4/osx10/FlashBuilder_4_LS10.dmg
Adobe Flash Builder 4 Premium English Standalone for Windows:
http://trials.adobe.com/AdobeProducts/FLBR/4/win32/FlashBuilder_4_LS10.exe