Tablet PC is getting good traction especially after the official launch of Apple's iPad with more and more board makers shifting into that direction. If you are hoping to get an Android based tablet PC with a much powerful processor and graphics chipset combination, Aigo has a solution for you. Just recently, an information leak indicated a next generation tablet PC product that being planned to be available for commercial market soon. With the name of N700, it will be featured with 1GHz ARM Cortex-A9 ARM processor and what makes it more compelling is the integration of Nvidia's Tegra 2 graphics chipset that will definitely able to attract users to get their budgets ready for it.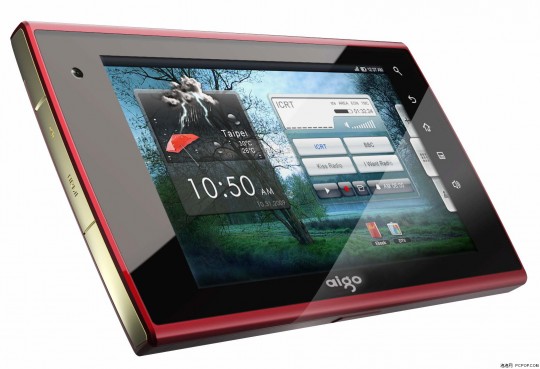 Equipped with 7-inch WVGA 800 x 480 resolutions with capacitive multi touch capability, the machine will be powered by ARM Cortex-A9 and further enhanced with Nvidia's famous Tegra second generation graphics chipset, it is capable to handle full HD (High Definition) media playback without burdening CPU cycles available for other tasks. Besides, it is expected to be able to run Flash 10.1 with Android 2.1 as a base Operating System. Some other hardware specifications include a 512MB DDR2 memory, either 4, 16 or maximum of 32GB of onboard storage, USB ports, HDMI video output, micro SD card slot for memory expansion, built in accelerometer, digital compass as well as ambient light sensor. Not to be lacked behind are some wireless technologies such as Bluetooth 2.1, optional 3G, WiFi for seamless network connectivity while moving around. All these are well packed into a sleek and stylish 208 x 122 x 13.95mm form factor with even some space available for 2-cell high capacity 3120mAH battery pack.
However, no pricing and actual availability so stay tune for latest update when it is available soon.