Have you seen magicians conjure rabbits from thin air with a flourish of their hands? Well, you are set to do the same with Deanmark's AirMouse. Strapped to the fingers and wrist, Deanmark's AirMouse works just like a mouse but with a difference. Instead of moving the mouse on a conventional mouse pad, users can flourish their wired hands in thin air and make things happen on their computer. Much as Nintendo's Power Glove gives the ultimate control to gamers, Deanmark's AirMouse will put control where it belongs. Now you can really feel at one with your machine.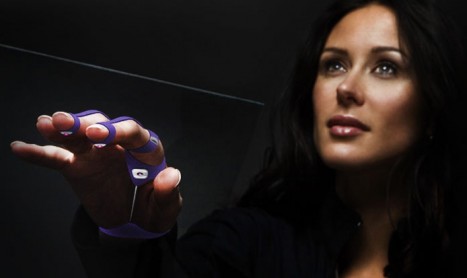 Touted to be better than the ergonomic mouse, the AirMouse is aligned to the wrist and finger ligaments to provide a seamless performance so that users can "mouse better, faster, and longer." The optical tracking laser and the right and left buttons on the mouse are strategically located on the palm and fingertips so that users can use the AirMouse or touch type interchangeably without having to remove the wireless device.
The AirMouse is made of durable and light material that stretches easily and thus moulds the hand into natural and comfortable positions. This is believed to prevent computer-related or repetitive stress injuries including the common carpel tunnel syndrome. The AirMouse can be recharged and lasts up to a week before the next charge. The optical tracking laser and rechargeable batteries can be removed to customize the fabric type, color, and pattern according to users' preference.
The AirMouse allows users to multitask and paves the way for speedier and a more seamless connection with the computer. Should it even be called a mouse anymore?