The leading maker of award-winning Jawbone Bluetooth headset, Aliph has launched its new Jawbone ICON, which the company claims as the world's first truly intelligent Bluetooth headset, featuring NoiseAssassin 2.5, integrated intelligent and all-new MyTALK software platform that lets users personalize and update their Jawbone ICON via Internet.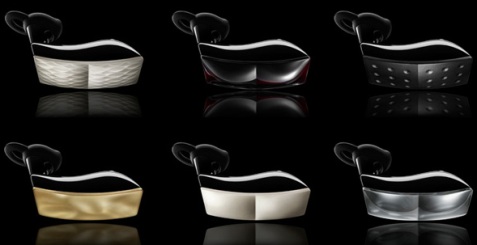 "In building the next generation of wearable computing, we focused maniacally on creating the world's best customer experience," said Hosain Rahman, CEO of Aliph. "We incorporated significant intelligence into the headset and as a result this is the simplest-to-operate Jawbone ever created, with a rich array of design choices to suit any preference or lifestyle. We like to call it a new icon for personal expression."
Features and specifications of Jawbone ICON:
MyTALK AudioApps let you personalize the voice that conveys information such as battery life and Caller ID (also offer 3 localized versions – French, German and Spanish languages)
MyTALK DialApps let you customize an easy access button linking directly to services of your choice like free directory assistance, voice-to-SMS and voice dial
Simultaneous Multipoint for switching seamlessly between 2 calls on different mobile phones
On/Off slide switch and one-button control aimed for radical simplicity
Visual battery meter displays your ICON's remaining battery life on iPhone's status bar
NoiseAssassin 2.5 with wind reduction eliminating background noise from mobile phone conversations
Improved speaker design and signal processing enhance inbound audio clarity and volume
Set It and Forget It Audio eliminates the need to adjust volume from one caller to the next
Talk Time: Up to 4.5 hours ; Standby Time: Over 10 days
Available in 6 stunning jewelry-like designs with lush textures and finishes
"Each customer is an individual, with unique tastes and preferences. With this in mind, we invented MyTALK as a place where people could go to get a richer in-ear experience. MyTALK is just a hint of the exciting ways people will be able to breathe life into their Jawbones over time," added by Rahman. "Customers also tell us they don't want to reach for their phone when their hands and eyes need to be elsewhere, like on the steering wheel and on the road. So Jawbone ICON uses its brains to now whisper important information like caller ID and remaining battery life into the user's ear."
The new smart, compact and lightweight Jawbone ICON intelligent Bluetooth headset that weights just 8 grams is now available at Verizon stores and www.jawbone.com for MSRP of $99.99.