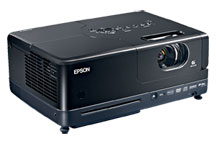 For great video and exciting audio all packed in one, Epson MovieMate 55 is the ideal entertainment combo to add to your collection. Comprising a merger of the LCD projector, DVD/CD player and dual Dolby® 5.1 Digital DTS® 8W stereo speakers, this is an all-in-one package for your viewing and listening pleasure. Epson MovieMate 55 saves you a lot inconvenience and hassle from having to hook up numerous cables and electronic devices since everything is built into the device.

The built-in projector can project DVD/CD movies on any blank wall and is able to achieve 16:9 widescreen image (60″ to 120″). Weighing approximately 8 pounds, the Epson MovieMate 55 can play video from the DVD/CD player or it can also be connected to an iPod, Nintendo Wii, Sony Playstation 3 or Microsoft Xbox 360 for videogames. This all-in-one entertainment package comes complete with a pair of built-in 8 watt 5.1 Dolby Digital DTS speakers for superb sound effect.
Priced at $699.99, the Epson MovieMate 55 is easy to carry around and operate. Users can bring it around for entertainment while traveling. Public speakers or presenters can also carry it along for any business presentation or seminar.