Altimeter, barometer, thermometer, chronograph and compass are something you cannot do without if you are going on an extreme expedition. Carrying all these essential devices can be a heavy burden on the back especially as traveling light is a prerequisite and not a luxury. As such, the latest Timex Expedition WS4 has not come in handier.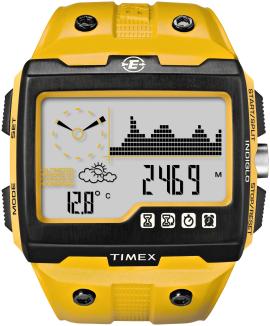 The cool timepiece combines time-keeping with a timer, alarm, altimeter, barometer, thermometer, chronograph, and compass for the die-hard adventurer. Besides, you not only look cool in an elegant watch but travel in style as you don't have to lug so many extra devices with you. All the information you need to aid you in your expedition is in your hands, or around your wrist, literally speaking.
The wide-screen face of the watch, lightweight composite casing and stainless steel bezel make the watch very practical and user-friendly. Wearers can also choose between a rubber strap and an XL elastic strap for the watch. Available in black, orange, yellow, blue, and white, the watch is fashionably attractive and practical. The Timex Expedition WS4 is available at $199 starting in May.
Judging from the summary of its features, the Timex WS4 is probably the best copanion to have a difficult expedition:
Target altitude setting and altitude alarm helps set goals and warn of exceeded limits
Four altitude-reference settings for one-touch calibration and improved accuracy
Graphic altitude and barometer displays for at-a-glance review of trends
Weather-condition forecast with real-time temperature and future alerts
Digital compass headings and digital needle
100-hour chronograph; 100-hour timer with repeat function and 99-lap count with display of lap or split time
Daily, weekday, weekend, or weekly alarms
Water-resistant to 165 feet
Night light for easy viewing in low-light conditions
Highest, lowest altitude; total ascent, descent
Time spent at or above target altitude
Altitude, barometric pressure, temperature graph
Highest, lowest, average barometric pressure and temperature