Altec Lansing has expanded the Orbit family with its new Orbit USB (iML237), the ultra-portable, powerful laptop speaker that combines stylish design, surprisingly big sound and the convenience of plug-and-play USB connectivity in a single device, seems perfect for the frequent traveler.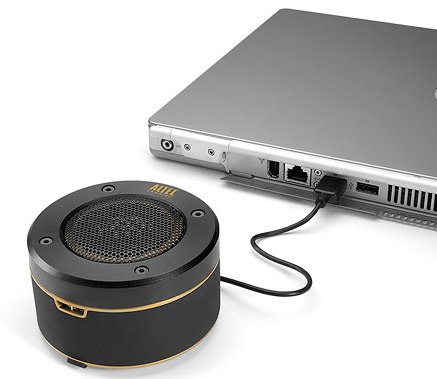 Key Features Of Altec Lansing's Orbit USB (iML237):
Audio Alignment – Perfectly balanced components ensure ultimate sound.
Incredible digital clarity – From the source to the speaker, sound stays digitally wired through the USB connection. No fuzz, no muffle, just high-quality audio.
360° sound field – Push astonishing sound in all directions.
USB powered – Just plug and play, without the need of batteries or AC cord.
Tough design – It can handle knocks thanks to aluminum and composite construction.
Stylish neoprene case with hook-on carabineer as well as tangle-free cord storage – perfect for travel
Retractable stand lets users aim the sound in any direction.
LED power indicator
"We think two kinds of consumers will love the Orbit USB," explained by Don Milks, Senior Manager of Product Management for Altec Lansing. "Today, college students rely on their laptops for much of their entertainment. You see them all over campus. The Orbit USB can be tossed in a backpack and provide powerful instant sound at any time. Next, business people can enhance their presentations with board-room filling sound from the Orbit USB, which is small enough to pack in a briefcase. And then they can listen to music in their hotel rooms at night. Whether you like to listen to iTunes, watch movies or simply need better presentation sound, the Orbit USB's plug-and-play audio will work for you. And the battery-free design offers an environmentally responsible solution."
Altec Lansing Orbit USB (iML237)that weights less than 6 ounces is scheduled to be available at BestBuy, Amazon.com and other consumer electronics retailers starting mid-September 2009 for around $50.