Altec Lansing is known for its high-end speaker and dockable iPod stereo systems. And now the speaker creator company has released the inMotion iMV712 recently, a new speaker dock for the iPod that transforms iPod into a small-scale home theater which is visibly different. The iMV712 iPod dock is embedding an 8.5-inch widescreen display for watching your favourite iPod's video.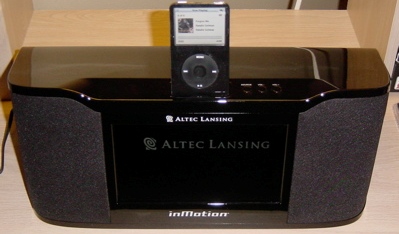 This Altec Lansing iMV712 is also more accommodating to third-party devices with both a minijack input for audio and RCA input for both audio and video from DVD players or similar sources. In addition, Altec Lansing claims its iMV712 dock can "deliver powerful, concert-like sound and a true cinematic video experience." Its 3-inch neodymium speakers, built-in 4-inch subwoofer and 8.5-inch high resolution LCD screen can improve your beloved iPod's experience.
The Altec Lansing inMotion iMV712 comes with the wireless remote control for easier access and it will be available in the stores around this month for about $350.