Altec Lansing has announced the latest addition of its inMotion family – inMotion Classic (iMT620), the portable music system which designed for Apple's iPod and iPhone, featuring built-in FM radio tuner, high-contrast LCD display and rechargeable battery, aiming to offer advances in portability as well as audio performance.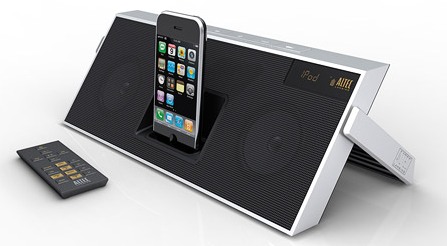 "Mobility is becoming more and more important," commented Ed Benforado, Product Category Director at Altec Lansing. "Music lovers want to share their sounds with friends and family on the go. Consumers told us they don't want to drain their batteries during travel, they don't want to lose their remote, and they want an easy way to carry the dock. We listened: that's why the inMotion Classic has automatic shutoff in pack mode, built-in remote control cubby, and 3-position handle."
Main Features Of Altec Lansing inMotion Classic:
Audio Alignment – Drivers, enclosure and electronics are balanced for optimum sound.
Clear, digital sound pushing full, pulsing bass – Digital signal processing technology delivers thumping bass.
Versatile handle – Swing back for a kick stand, swing up to grab and go, tuck away to pack.
Digital FM radio – Tune in with a retractable antenna, LCD display and station presets.
High-contrast LCD – Always know your beat. Track, artist, album and station display.
Music pause – Automatically pauses music when a call is received on the iPhone.
Interference-free – Unique design is immune to mobile phone interference, eliminating the need to switch to airplane mode.
Auxiliary input – Switch it up by connecting a second audio source.
Universal dock for iPhone and iPod – Recharges while it plays your tunes.
Compact and lightweight – Easy to carry, easy to use.
Remote cubby – Stow the remote away.
Onboard controls – Power, audio source, volume, FM radio and song navigation.
Expanded sound stage technology enhances the stereo listening experience by widening the sound field at the touch of a button
Rechargeable battery supports up to 5 hours of unplugged music.
Full-feature remote provides complete control over menu and music options.
The new Altec Lansing inMotion Classic (iMT620) which measures 11.1 (W) x 1.7 (D) x 6 (H) inches will ship in mid-September 2009 at Best Buy, Apple retail stores, Apple.com, Amazon.com, ToysRUs, www.alteclansing.com and more retailers for about $150.