The Altego branded Clear Laptop Sleeve is a new product from Samsill Corporation, a manufacturer of business cases, media storage, ring binders and sheet protectors with headquarters in Fort Worth, Texas. The main characteristic of Altego Clear Laptop Sleeve is transparent front panel which allows designer or stylist laptop, netbook or notebook computer with color, custom-designed lid, adhesive skin or even LED indicators to be seen while packing or carrying inside the sleeve to express individuality and personality.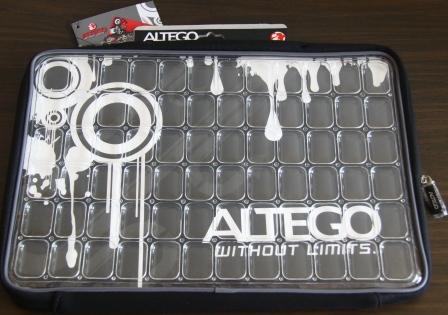 The main functionality of a case is still protection to the computer, where Altego Clear Laptop Sleeve features Air Cushion technology as padding, which is similar to what running shoes use for shock absorption. Air Cushion uses air to shield and protect the computer from shock, impact and vibration, while allowing the front panel of the sleeve to be transparent. The sleeve also has a thick neoprene back panel with Cushion Cell lining to protect against bumps.
My Digital Life receives a 15.6 inch Altego Clear Laptop Sleeve for review, and we really like the protection it provides to the computer, which is just like air bubbles wrapping around the laptop. And the sleeve is water resistant for added protection against rain and moisture.
Features of Altego Clear Laptop Sleeve:
Transparent front panel featuring Air Cushion technology protection
Show off your personality and style while keeping your laptop safe in the sleeve
Thick neoprene with Cushion Cell lining
Check Point Friendly – No need to remove your laptop while going through airport security
Patent Pending
Each air pocket is independent in order to provide laptop protection in the case of a single air pocket puncture
Water resistant: thick neoprene back panel with molded EVA Cushion Cell lining and clear Thermoplastic Polyurethane (TPU) on the front
Using of Altego laptop sleeve is easy, as it has a clamshell double-zipper design which allows the laptop to be easily and quickly stored and place in. For frequent travelers, the laptop sleeve make the security clearance easier, as under TSA rules, laptop is not required to be removed from TSA-complaint sleeve.
Altego clear laptop sleeve has its non-practical aspects too. The sleeve-styled case does not have any carrying handle or strap. Thus, for a 15.6 inch notebook computer, the weight of the laptop makes carrying around impractical. There is no pockets or additional compartments, thus it's impossible to bring along mice, power adapter and other important accessories. available However, the sleeve is an excellent protecting case for laptop to carry in another backpack or sling bag, as the sleeve does not add on any dimension or size significantly.
Though Altego Clear Laptop Sleeve provides great protection, but it has its Achilles' heel and vulnerability weak point too, and that's the side of the sleeve. Though the side of sleeve where the zipper locks and unlocks the sleeve case is also been padded, a thick laptop will most likely leave a gap between the padding, making the laptop may be damaged if it drops on the side.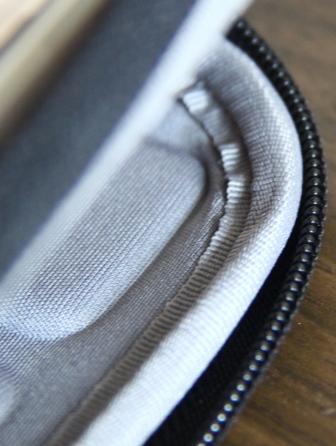 The Altego Clear Laptop Sleeve is available in 10″, 13″ (coming soon), 14.1″, 15.6″ and 17″ models and come in a variety of colors including black, platinum, pink and coming soon in red. There is also models made specifically for Apple Mac and iPad. The prices range from $24.99 – $39.99 depending on size, though it's possible to buy the sleeve case much cheaper at Amazon
(aff). The Altego case is also sold at Dell.com, Tigerdirect.com, and Staples stores from January.
In conclusion, Altego Clear Laptop Sleeve is a worthy buy for people who values unique style and personality, and while doing so does not want to compromise on the protection for the computer. It's especially suitable to small size netbook, notebook and laptop which typically has dimension of 13.3″ or less, and iPad, where the light weight allows it to be carried in arm. And the sleeve case is not expensive too.
Ratings: 4 out of 5
Disclaimer: My Digital Life receives 15.6 inch Altego Clear Laptop Sleeve for review.