The leading provider of sophisticated yet user-friendly computer peripherals and consumer electronic devices, Aluratek, Inc. has launched its new e-Book Reader with exclusive LCD display technology – Libre eBook Reader PRO, which offers a crisp black and white 5-inch screen with the same appearance and readability of printed paper (without backlight), pre-loaded with 100 of the most popular downloaded books on the included 2GB SD memory card.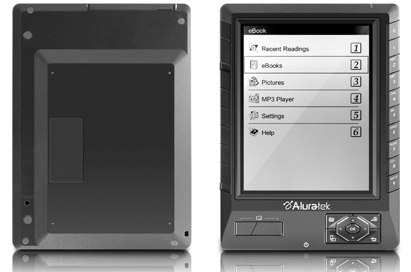 "Unlike e-Ink displays which require multiple flashes for each page advance, I believe the reflective LCD technology the Libre offers will be a welcome change compared to other eBooks currently on the marke," said John Wolikow, VP for Sales and Marketing at Aluratek. "The ability to store thousands of your favorite books in the Libre is not only convenient but it's also good for the environment by saving trees."
Features Of Aluratek Libre eBook Reader PRO:
Newest monochrome reflective light LCD display technology
Built-in MP3 player with background music playback support
Content search for easy navigation between books and pages
Five font size options, battery level indicator and low level warning
Super-long battery life supports up to 24 hours of continuous use
Table of contents, bookmark list and page, jump to page, zoom and auto page turn capabilities
Supports Adobe DRM, ePUB, PDF, FB2, TXT, Mobi, PRC and RTF e-book formats
Supports BMP, JPG, GIF and animated GIF picture format
Bundled with a 2GB SD card that loaded with 100 free ebooks
Aluratek's Libre eBook Reader PRO that arrived in either black or white color is now available for an MSRP of $179.