The famous developer of light-scanning technologies for display and imaging products, Microvision is planning to unveil at CES an advanced prototype of a handheld plug-and-play projector intended for mobile devices and applications, named as SHOW. It's the stand-alone pico projector which powered by the company's proprietary ultra-miniature PicoP display engine, allowing the users to project a wide screen, WVGA resolution (848 X 480 pixels), DVD quality image, ranging from 12 inches (30cm) to 100 inches (2.5m).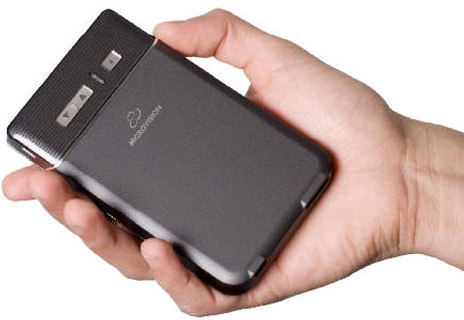 In addition, Microvision also claims that the SHOW can support up to 2.5 hour of battery life on a single charge, which sufficient to watch a full-length movie.
"Consumers want better display solutions that will enrich their experience in watching TV, videos and movies, in playing games, and in browsing the web from their cell phones and other mobile devices," said Alexander Tokman, President and Chief Executive Officer of Microvision. "While mobile multi-media subscription services are on the rise, handset manufacturers, content providers and service providers view tiny cell phone displays as a barrier to stronger consumer adoption of their products and services. With Microvision's SHOW you could view and share everything ranging from YouTube videos, MSN newscasts, and Google search results to PowerPoint presentations, feature-length films, and family photos in a large, full-color, hi-resolution format instead of a 2-inch, QVGA display."
"SHOW is a significant milestone for Microvision and is proof that our technology is maturing according to plan and is close to being market-ready," added by Tokman. " Microvision's low-profile and low-power design, supported by leading supply chain partners, is very attractive to numerous mobile handset device manufactures, carriers and content providers. We believe that this milestone is meaningful not only for our company but for the industry at large."
According to the company, the commercial version of the new SHOW handheld projector is expected to be available by the end of 2008.