Advanced Mirco Devices Inc (AMD) recently has announced three new quad-core Phenom X4 processors, which include a high-end black edition chip Phenom X4 9950 and two more energy-efficient chips, the Phenom X4 9350e and Phenom X4 9150e. 
The AMD Phenom X4 9950 are designed for power users with featuring max TDP of 140 watts and clock speed of 2.6GHz. Currently, Phenom X4 9950 is the top line processor which offering a slight speed bum over the 2.5 GHz Phenom X4 9850 part announced earlier this year.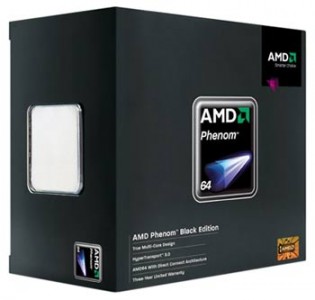 The others two processors are fundamentally same as 9950, with the only difference 9350e and 9150e are locked to maximum voltage of 1.125v with the 2.0GHz and 1.8GHZ speeds respectively and TDP of 65W. All three chips are fabbed using a 65nm process, 64K of L1 instruction and 64K of L1 data cache per core, contain 2MB of shared L3 cache and 512KB of L2 per core.
All the new AMD Phenom X4 9950, 9350e and 9150e are currently available at the retail with the price of $235, $195 and $175 respectively.