AMD has recently announced to ship its Quad-Core Barcelona Opteron processors in August 2007 timeframe. Rumors flying around stated that AMD are facing manufacturing problem and have its Quad-Core silicon delay until end of this year. With this announcement, AMD hopes to at least calm down its supporters with clear road maps on when they can expect to get the new silicon.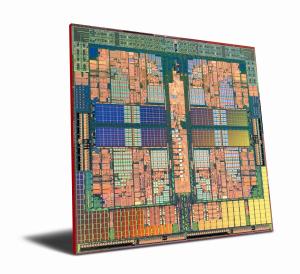 Barcelona chip has dedicated four processing cores embedded in a single die which could boost the performance significantly. It is manufactured using 65 nanometer technology and is believed to run up to 2.0GHz core speed. Its enhanced micro architecture design is said to have higher performance per watt with lower power consumption as compared to its predecessors as well as competitors. AMD spokesperson claimed that this next generation silicon is capable to outperform the rest by 70 percent and 40 percent for database and floating point applications respectively. They are currently prioritizing on both standard and low powered versions which hopefully will bring the silicon out to the market earlier to fulfill the high customer demands.
AMD lost hundreds of millions dollars for the past two quarters due to hectic price slicing war with Intel. On the other hand, Intel regained back its market share after the launch of its Quad core to the market earlier than AMD. Although AMD criticized that Intel's Quad core was not truly four cores on single silicon, but it is foreseen that Barcelona will continue to face stiff challenges when Intel releases its new 45 nanometer Quad-Core Harpertown processor by end of this year.