There are many usage models that can utilize Intel Atom processor but have you ever wonder that the ultra small form factor and thermally efficient processor is suitable for military use as well? Just recently, Amrel has just unveiled an Intel Atom based biometric handheld device that can be used to scan and detect face, fingerprint and iris patterns and eventually identify one's identity while on the move.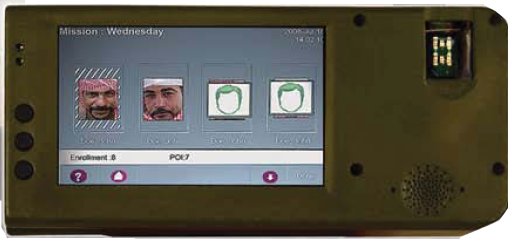 Named as HBS02, the handheld device is powered by Intel Atom Z530 series clocking at 1.6GHz. Further equipped with a five-inch touchscreen and embedded 32GB SSD (Solid State Device) storage, it enables the fast and reliable individual checking with cross reference to its huge database records stored in the SSD for precise identity recognition.
There are three cameras, with each of them dedicated for face detection, fingerprint and Iris scanning. The first one, a three megapixel camera, while the second one with a 500dpi (dot per inch) and the third one with impressively high 1000dpi forensic camera respectively that make it a powerful all-in-one biometric device suitable for military use. On top of these powerful feature sets, the device is further enhanced with 802.11a/b/g/n wireless technologies, GPS module, USB 2.0 host ports, Gigabit Ethernet as well as serial interface.
No pricing and availability yet, the module is compliant with both military standards MIL-STD 810F and IP67 suitable for harsh environments.