Angry Birds is probably one of the most popular, if not the most popular games in the world itself. In the puzzle video game, developed by Finland-based Rovio Mobile, players use a slingshot to launch birds at pigs stationed on or within various structures in order to destroy all the pigs on the playfield.

Angry Birds made its fame through iOS platform, where it's available first on iPhone with a small fee. Angry Birds is available for almost all gaming platform such as iOS (iPhone, iPod touch and iPad), Android, Symbian, Maemo, PSP, Playstation, Mac OS X, Windows and etc, though the only free but ad-supported version is available for free on Android mobile platform. But if you has a Windows PC or netbook, and want free Angry Birds game, Intel AppUp is giving away 15,000 copies of Angry Birds for Windows.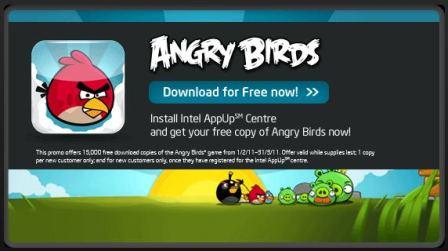 The promotion of free Angry Birds PC download is valid only to new user of Intel AppUp, and run from February 1, 2011 to March 31, 2011, or while supplies (15,000 downloads) last. Thus, in order to get the free Angry Birds, you will need to sign up for a new AppUp account. Once downloaded, the Angry Birds can be installed or played in Windows PC, notebook, laptop, netbook, nettop or table computer.
Here's how to download Angry Birds for Windows for free, with normally costs retail price of $4.99 (note that the promotion may be is for UK only):
Download and install Intel AppUp Centre: IntelAppUpcenter-windows-installer.exe

Note: Adobe AIR Runtime is required.

After installing, run Intel AppUp Centre.
Click Sign In, and then in the pop up dialog, click Sign Up.
A web page for registration will be opened. Register for a new account. Once registered, a "Dixon's Angry Birds Giveaway" notification will appear in browser that Angry Birds is waiting and available for free download in My Apps area of the store.

Close the web page after registration, and login to the Intel AppUp Center.
Click on My Apps to download and install Angry Birds.