If you own multiple networked devices and would like to get your data shared across so that all of them are in synchronous, you may realize the pain to get them all organized without messing up your platform. And that is how the patent filed by Apple Inc trying to address the concern. Named as 'Grab & Go', it intends to simplify the synchronizing effort of cross-platform devices without much complexity and human intervention.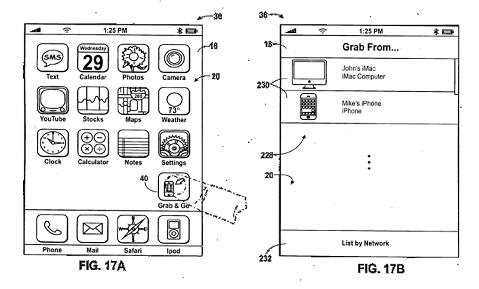 As the name implies, the software will able to grab files and then synchronous accordingly by categorizes or types which includes business, personal, entertainment, multimedia and many more. Besides synchronizing information between devices, the idea also mentioned about the way of keeping data in the cloud and then pushed to multiple devices without additional human intervention. In order to generate greater users' experience in web browsing in tiny portable devices, the system can share all recently accessed websites and favorite websites among themselves, for instances from Mac PC, Apple TV to iPhone or iPod and so on. Some other practical scenarios where this could appear to be useful include a situation whereby an office user can synchronous all work-related documents but leaving other personal sensitive stuffs untouched when he needs to rush for an urgent meeting.
Although this is only one of the innovative ideas that have been filed and stayed in patent office without any solid plan of implementation, but as an end users, you will definitely able to sense what is the next generation technology that could potentially be driven by the Cupertino-based technology leader into its future product lines besides trying to address common gap in today's consumer electronics and PC's end users experience.