We have mentioned about iPad not charging due to under-powered USB ports on most of the Windows and Mac PCs, instead of relying purely on its 10-watt USB power adaptor to charge or upgrading your motherboards to newer Mac PC, there are some drivers updates available for download that will able to make your existing motherboard more Apple-friendly, giving you extra convenience to charge your lovely iPad while moving around without the need to carry its original travel charger.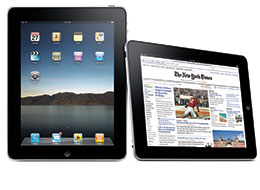 In actual fact, users will still able to charge their iPad using conventional normal PC USB ports when the unit is in sleep mode with screen off but what is annoying here is whenever you turn on the iPad, a 'Not Charging' sign will be shown on the top right corner where the battery bar indicator is located. The trouble here is not only making the iPad totally unusable during the recharging cycle, but its extremely slow charging time may take ages for it to be fully charged due to the under-powered 5V USB ports that can only supply 500mA current which is far below 1.2A rated current as being required and sourced by iPad. In view on popularity of Apple's products and in order to tackle such inconvenience, some major board makers such as MSI and Asus has announced driver updates that are aimed to upgrade its usability on the fly without any hardware modification.
For MSI driver updates, users can get the download here (named as i-Charger) for its motherboard regardless if they are desktop PC or notebooks whereas for Asus brand, users can get its Ai Charger update here that are claimed to be able to ramp up its USB host ports to supply 1.2A for speedy charging as required by iPad while moving around.