Apple has just released iPhone device firmware OS version 2.2.1 (5H11A), which iPhone owner can download and install via iTunes and connect the phone to computer. iPhone software update version 2.2.1 is compatible with iPod Touch, iPhone and iPhone 3G products, and will also update the modem firmware (and baseband) from 02.28.00 to 02.30.03.

iPhone software update 2.2.1 contains bug fixes and improvements, including the following:
Improved general stability of Safari
Fixed issue where some images saved from Mail do not display correctly in the Camera Roll
Fixed "Error Sending Message" while attempting to sending an SMS.
Fixed Apple Lossless (ALAC) audio files skip during playback in iPod Touch.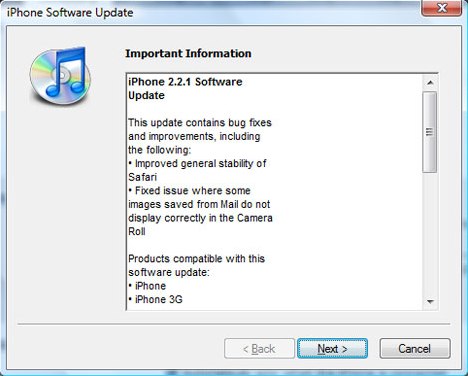 iPhone users who cannot use iTunes to download can download the firmware file directly using the following direct download links.
iPhone 2G 2.2.1 Firmware: iPhone1,1_2.2.1_5H11_Restore.ipsw
iPhone 3G 2.2.1 Firmware: iPhone1,2_2.2.1_5H11_Restore.ipsw
iPod Touch 2.2.1 Firmware: iPod1,1_2.2.1_5H11_Restore.ipsw
iPod Touch 2G 2.2.1 Firmware: iPod2,1_2.2.1_5H11a_Restore.ipsw
The direct download links have resume support, and can be downloaded using the help of download manager. In order to upgrade the iPhone or iPod Touch device with offline downloaded softare update, plug in iPod Touch or iPhone to PC, and then press and hold "Shift" button while clicking on the update button on iTunes interface. A window will pop up to let you select the firmware to upload to portable device.
Update: iPhone and iPod Touch OS firmware 3.0 software update