The refreshed and updated iPad 2 has been introduced and announced by Apple Inc. In addition, Apple has also announced the new innovative Smart Cover to accompany the launch of long-awaited iPad 2, which features an unique cool self-aligning magnetic hinge for easy attaching to your beloved iPad 2 with perfect fit, foldable into a keyboard stand for easy typing or hands-free viewing stand for FaceTime video calling or watching movies.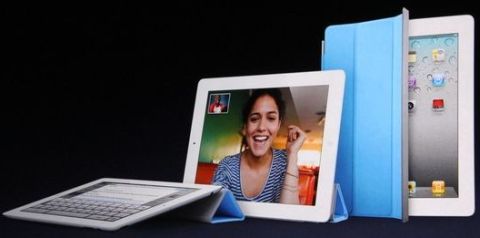 In addition to the ultimate protection for iPad 2, the Smart Cover also able to instantly put iPad 2 to sleep while it's closed and wake the tablet up while it's opened, seems perfect for lazy folks. Furthermore, Smart Cover can help users to keep their iPad 2's display clean by gently removing any smudges and fingerprints without scratching, thanks to its soft microfiber lining.
The new thin and lightweight iPad 2 Smart Cover that available in 2 versions – vibrant polyurethane covers ($39) and rich leather covers ($69), will be offered in an array of stylish colors.